Everyday life can sometimes get overwhelming – and spending time in nature is a perfect solution to relax. A growing body of scientific evidence is revealing that nature-based, eco-therapy is a powerful antidote and preventive medicine to a variety of physical and mental ailments. Even doctors are now prescribing spending time in nature for its positive health effects! While phase 3 is hopefully approaching soon, check out our list of 5 unique Singapore nature trails that will get you up and back into nature! 
Time spent amongst trees is never wasted time. – Katrina Mayer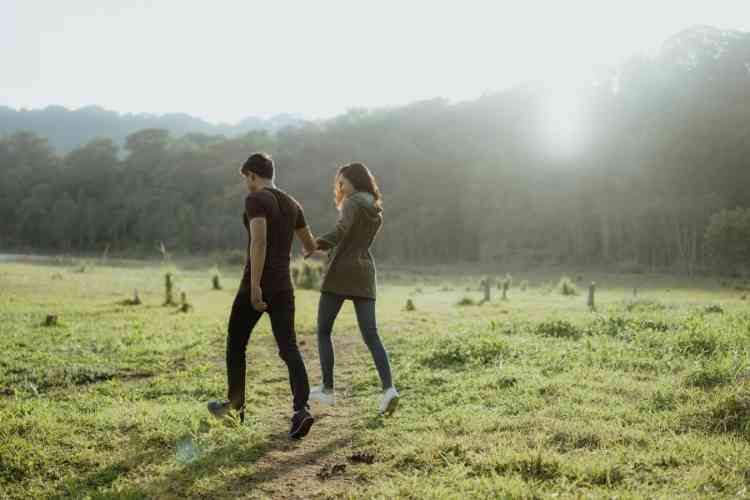 The healing powers of nature
The magic is in the trees – which produce immune-boosting, stress-inducing aromatic substances called phytoncides. Spending time in nature can improve overall mental performance including creativity and focus, reduce blood pressure, improve sleep, accelerate recovery from illness or surgery. Even indirect contact to the environment, such as listening to nature-related sounds, has proven to decrease the body's 'fight-or-flight' sympathetic response and stimulate the parasympathetic response, the part of our brains associated with helping the body relax. 
Have we lost our connection to nature?
In today's digital age, children are increasingly growing up indoors, hooked to their devices and social media. This has led to a phenomenon coined "nature deficit disorder" where reduced exposure to the natural environment causes a diminished use of senses, reduced attention span and higher rates of emotional and physical illness. This nature-deficit may also contribute to weakening ecological literacy amongst children and adults alike. 
Regularly reconnecting with nature reaffirms our place on the planet, reminding us of the interconnectedness of life and the need to protect our fellow earthlings and ecosystems they inhabit.  A sense of wanting to protect life on Earth runs deep when you know and have a love for the ecosystems and species we stand to lose. 
In fact, our connection to other life forms is innate and fundamental to human existence – it's called biophilia. All we need to do is reconnect and remind ourselves of this biophilia by spending time regularly in nature. 
How we can reconnect with nature
Take a break from screen time to go to green space, either on a daily or weekly basis. Encourage your family, especially the kids, to join too! Your dose of rejuvenation amid Singapore's luxurious greenery is waiting for you. 
Open your eyes and ears to nature's sights and tunes. Feel the wind play in your hair. Rekindle that childlike curiosity as you look out for interesting animal or plant life. If you're a photography bug like me, don't forget to take pictures of the species you spot!
Despite being a small island city-state, the richness of biodiversity in our little red dot is breathtaking! We have more than 350 parks and 4 nature reserves to ease your stress away as you take a stroll, hike, cycle, or have a picnic.
Remember to leave behind memories and not litter, and most importantly, be kind and respectful to the animals and plants. With so many nature trails to choose from, let me share my picks for some of the unique nature trails you mustn't miss. 
*All photographs by the author, unless otherwise stated
Green Corridor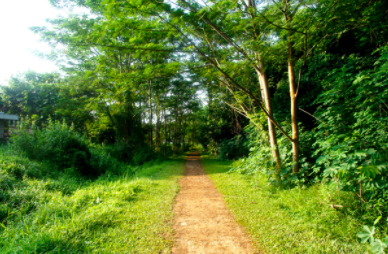 Wild and rugged, the Green Corridor is an uninterrupted stretch (with no boardwalks!) of greenery and woodlands that runs the entire length of Singapore. It's a 10.5 km course that begins at the Old Tanjong Pagar Rail Station and is popularly used for cross-country training and running races. Once a railway track, nature has now taken precedence. Get your adventurous spirit on as you explore the various trails at Green Corridor. Do bring along the handy maps from the Green Corridor Website with you so you don't get lost.
Coney Island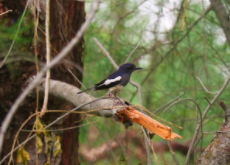 Towered by Christmas-themed Casuarina trees, this island is the perfect spot for a day out with family and friends. I love that it is a sustainably designed island! The signboards, benches, and boardwalk were all made from fallen trees and there is even a rain-harvested, solar-powered toilet. Don't miss the tranquil mangrove boardwalk and look out for the adorable Smooth-coated otters in and near the waterways (Punggol Promenade). Make sure you pack water and lots of snacks to prepare for the long walk. There are cafes and restaurants along the Punggol Promenade for a refreshing drink or meal. 
MacRitchie Nature Reserve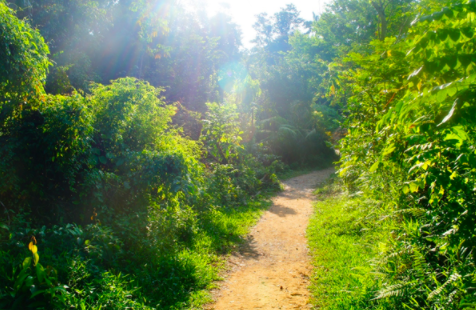 MacRitchie Nature Reserve has a variety of hiking trails, the popular ones being the Venus Loop and the Treetop Walk*. If you are going to the Treetop walk, expect stunning panoramic views of the pristine forest and reservoir. The park's monkey residents will greet you too! If you enjoy the water activities, you can go for a kayak or canoe ride at Macritchie Reservoir Park. Discover incredible wildlife near the freshwater streams in the Venus Loop.
*The Treetop Walk is scheduled to close until May 2021 at the time of writing this article.
Bukit Timah Nature Reserve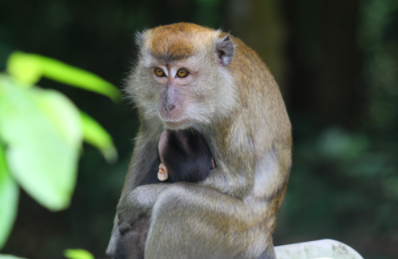 Just 12km away from the bustling city centre, stands this tall and rich natural heritage. It's one of the few remaining places with primary rainforest in the country. To get to the 164 m peak is a long trek– but the cool forest mist and atmosphere will surely re-energize you. This national treasure is home to rare and elusive creatures like the Raffles Banded Langur, Sambar Deer, and a species of crab.
Pulau Ubin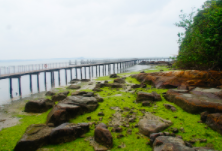 A 10-minute ferry ride from the Singapore mainland, Pulau Ubin is a rustic town and island, part of the Chek Jawa Wetlands. You can find ecosystems from rocky and sandy beaches to seagrass lagoons and coral rubble. You will witness a variety of animal and plant life, from mudskippers to horseshoe crabs around the island!
Get a taste of the laid-back, kampong spirit as you visit the small shophouses on the island to rent your bicycles or buy a refreshing coconut to drink.
You can find a full list of parks and nature reserves on the National Parks Board (NParks) website. Also check out 26 Hiking Trails For All Ages curated by Homage. Do check out my blog for more reflections on Singapore's biodiversity! 
Earn points in nature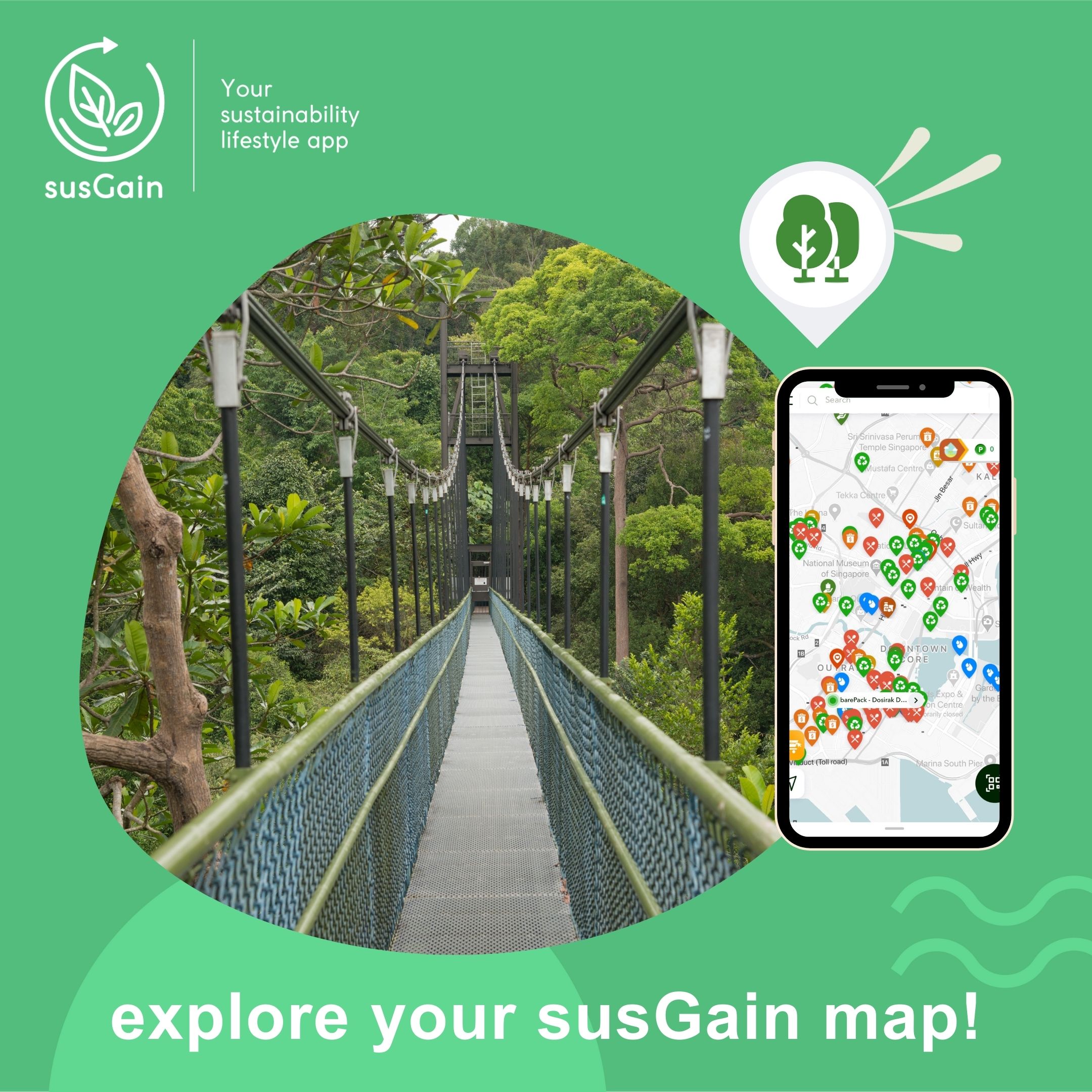 With the susGain app you can easily locate nature parks in your area through our locator pins! With each time you visit nature parks, susGain rewards you with 50 susGain points!
We at susGain want to make sustainable lifestyle choices easier, more accessible, and convenient for you. Check out our sustainable lifestyle app to see how you can turn your green habits and purchases into points, cashback as well as automatically support a charity close to your heart.