Are you looking for ways to adopt a more sustainable lifestyle? Most likely, you will be familiar with green choices from BYO, recycling, reducing your meat and dairy consumption, avoiding single-use plastics to purchasing decisions at eco-friendly businesses. We hope, of course, that you are also using the susGain app to easily find sustainable options in Singapore and get rewarded for your green actions. However, one area that is not much talked about, especially in Singapore, is that of sustainable laundry.
While there are some habits that are easy to reduce or drop completely, washing clothes is not one of them. In hot and humid Singapore, laundry is often a daily affair. How can we go green with our laundry? Here are some tips and easy changes to reduce our impact on the planet and extend the lifespan of our clothes.
1. Choose efficient machines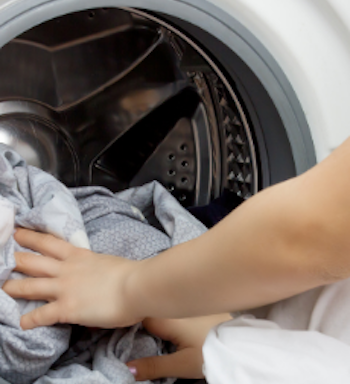 There are machines out there which use up to 66% less water and 50% less energy than average – called High-Efficiency machines, which also require minimum maintenance. Have a look out for them when you need to buy a new washing machine.
If you can ditch the dryer, please do! If not, here are some tips how to use your dryer most efficiently. Simply by cleaning the lint filter on time, you can significantly shorten the drying time.
There are also newer technologies such as the heat-pump, or condensing dryer which are more efficient, as well as those with moisture-sensor technologies which prevent over-drying. Less over-drying translates into reduced energy consumption and lengthened lifespan of your clothes!

2. Wear it more than once
Besides ensuring full loads, re-wearing your clothes (eg. jeans, cardigans, jackets etc) can significantly reduce your water and energy consumption. To ensure fresh clothes, simply air out your clothes between wears and treat stains instead of washing the whole garment.

3. Wash at a cold temperature
In addition, reducing the temperature of your wash cycle will have a big impact. Did you know that more than 80% of the energy is used for the temperature and only 20% for the motor? This simple switch can save you in heating costs, help protect the environment and your clothes from fading and shrinking. 
4. Avoid shedding microplastics
Microplastics, tiny particles of plastic less than 5mm in length, are a big problem for marine life. According to the International Institute of Sustainable Development, a portion of the microplastic concentration in our oceans comes from laundry wastewater, presumably from loads that contain synthetic fabrics like fleece.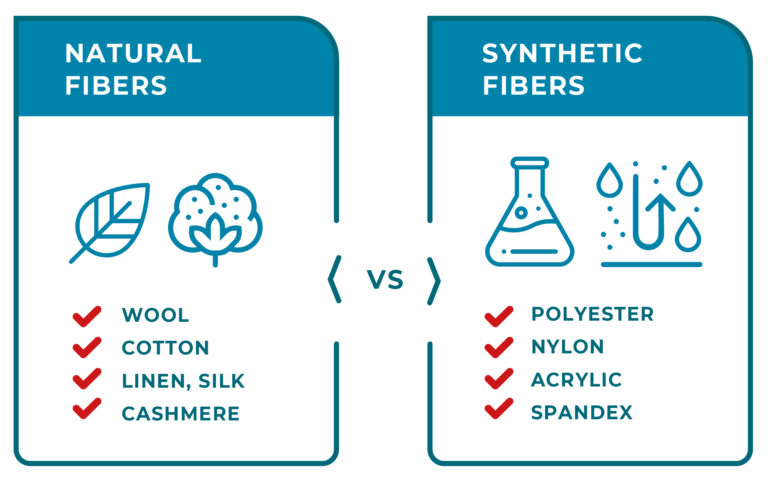 What can we do?
Choose new clothes made from natural fibres such as cotton, linen, hemp and wool and learn to identify synthetic fibres. But what about the clothes you already own that contain synthetic materials?
 Wash synthetic materials shorter and less frequently. With abrasion as the major culprit for micro plastic shedding, keeping synthetics separate from tougher clothings such as jeans can minimise it. 

Invest in a wash bag that can capture these micro plastic in the wash. The German company Guppyfriend developed a bag that reduces fibre shedding, protects your clothes and filter the fibres that break. It also works as a daily reminder to change our buying habits and washing rituals.
5. Use Sustainable Laundry detergents
This is probably the first thing that came to your mind when thinking about going green with your laundry. Besides the plastic packaging of liquid laundry detergent, conventional detergents often contain phosphates which can negatively affect marine ecosystems, and are usually not biodegradable. Looking for plant-based detergents in eco-friendly packaging?  These local susGain brands offer sustainable choices and reward you with cashback! Find homemade vegan laundry detergent, Soap Nuts, Green Culture, Tru Earth, and Laundry Powder in reused containers by these susGain partner businesses.
Find these local shops on the susGain app and do good for the environment, your wallet and local charities!  
Your Sustainable Store:
Homemade natural laundry powder

Souley Green:
Ecover Zero and Green Kulture

The Green Collective:
TRU EARTH Eco-strip Laundry Detergent

The Sustainability Project:
Soap Nuts and Laundry Powder in reused container

The Bare Essentials:
Laundry Stick, Liquid and TRU EARTH Eco-strip Laundry Detergent

6. Opt for Sustainable Dry cleaning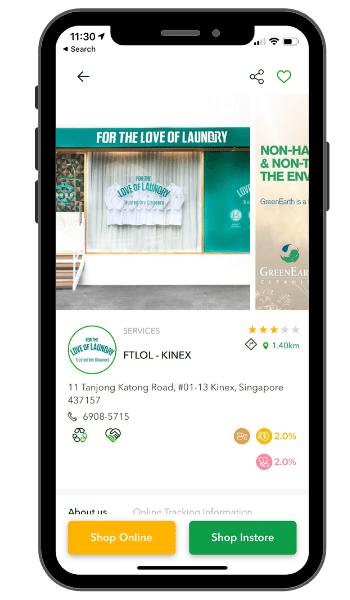 Most dry cleaners in Singapore use a petroleum-based solvent (Perc) which is not only bad for your clothes but also for your health and our environment. Check out susGain partner For The Love Of Laundry (FTLOL) instead. FTLOL uses GreenEarth technology, a form of liquid silicone that degrades into sand and trace amounts of water and carbon dioxide, a sustainable alternative to PERC. You can shop online or in-store in their six outlets, earn cashback and support a local charity!
We at susGain want to make sustainable lifestyle choices easier, more accessible, and rewarding for you. We are the only rewards app that benefits you, the planet and a local charity of your choice. Check out our sustainable lifestyle app to see how you can do good, give back and earn cashback!