Are you looking to decrease the amount of single-use plastic you consume? Become part of the solution and inspire others with your commitment to BYO. This Starter Kit will show you how! 
It's no secret that plastics have made our life more convenient. Singapore uses an estimated 1.76 billion plastic items a year, including 820 million plastic bags, 467 million PET bottles, and 473 million other single-use plastics. However, the environmental consequences of our dependence on plastics are becoming more apparent. Plastics, especially single-use ones, have a detrimental impact from production to disposal. The production of plastic is fossil-fuel intensive, contributing significantly to climate change. During disposal in Singapore, the incineration of plastic contributes to carbon emissions. It is filling up our only landfill, which is set to reach its capacity by 2035. Plastic can also break down into smaller micro-plastics which affect marine life and even enters into our food.
You have an important power
Although reusable items are also resource-intensive to produce, they contribute less to pollution and climate change when they replace the production of many single-use items. Consumers can also ensure they purchase responsibly and use the items over a long period. 
BYO in Singapore
The Bring Your Own, or BYO movement kicked off in Singapore in 2017. The movement started with more than 127 brands promoting reusables or refusing single-use plastics, thanks to the efforts of various NGOs, including Zero Waste SG's (a SusGain beneficiary!) successful BYO Singapore campaign. 
As individuals, one way we can get more businesses on board to BYO Singapore and reduce our own plastic footprint is to start BYO-ing! If you are just starting out in the BYO journey, or are far along looking for tips to take it a step further, do read on.
You are not alone!
The first thing to remember is that BYO-ing and going zero-waste can seem daunting. Especially if you are currently the only one doing it in your friend group or family.  But we are here to tell you that you are definitely not alone! Various youth and organizations have kickstarted campaigns to advocate for BYO. Those include Project bECOme, byobottlesg, Bye Bye Plastic Bags SG, and many more, whose efforts you can join and support. By championing the zero-waste movement through your daily actions, you will inspire those around you to do so, too.
Should we BYO during COVID-19? Sustainable Hacks To Support Hawkers
The Singapore government has been encouraging people to bring their own containers during the COVID-19 pandemic. Practicing BYO is now an environmentally and economically sustainable hack to help your local hawkers to reduce their costs of having to buy disposables. Hawkers have even started to put up signs that encourage BYO. With exciting reusable rental schemes by susGain partners barePack and Muuse, BYO-ing is highly encouraged if you need to go out. 
What about food delivery? If you want to avoid single-use plastics, check out this amazing list of zero-waste food delivery options compiled by Project bECOme! 
What do you need in a BYO Kit?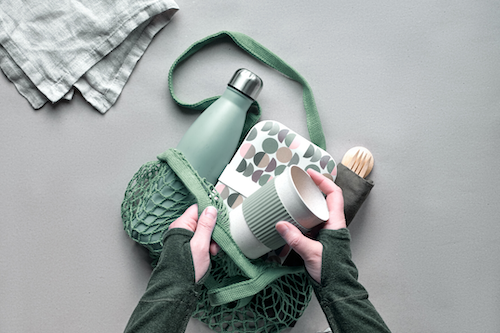 To be planet-friendly during your essential shopping and food take-away, all you need is a reusable box, bottle, cup if you like a separate one for cold/hot drinks, and a bag. Straws are non-essential for most drinks. Sipping from a cup or bottle should do, but if you are an avid bubble tea drinker, carrying around a reusable straw would be handy 🙂 
Instead of buying new, why not try to gather the existing items you have in your home to put together a BYO starter kit? You can always consider investing in more handy, durable reusables which you will use for the long term. I find that for easy storage in my bag that I carry daily, collapsible cups, containers, and reusable bags take up less space. 
Singapore has plenty of zero-waste lifestyle stores to buy reusable items. You can even consider gifting such items to your friends and family, and now is a great time to support these local businesses.
Some of susGain's partners include:
Tips for BYO-ing!
Sustainable & safe materials for your food and drinks include bamboo, silicon, glass, and stainless steel.
Try to bring a reusable box/cup/bottle/bag that is similar in dimensions to the disposable ones the retailer is using.
Smile and be polite when requesting to use your own reusable item. If the retail staff accepts your request, thank them sincerely!
Avoid touching your eyes, nose, or mouth after you use the reusable item.  It's also advisable to wash the reusable item with water and soap before and after purchase and to dry it completely before reuse.
Try not to store your reusable items in warm, dark, or moist environments that could promote bacterial growth (e.g. car trunk).
Want to go BYO-nd?
Why not use this #StayAtHome time to #StayWoke on global environmental issues by watching documentaries and reading books? You can even host a watch party with your friends to encourage them to take action too!
Documentaries 
A Plastic Ocean
An eye-opening film that unravels the science, impacts and solutions to plastic pollution through stunning footage from 20 locations around the world.
Albatross
Powerfully moving documentary that shows how majestic albatrosses living in the most remote island of our planet are severely affected by plastic pollution from the Pacific Garbage Patch.
The Plastic Cow 
This short documentary chronicles the plight of cows in India that are increasingly becoming victims of plastic pollution.
Books
With stunning visuals, this book brings the plastic pandemic issue to life. It sends a message of hope by highlighting projects combatting plastic pollution, from plastic-free grocery stores to art installations.
Coastal Cleanup in Singapore
There are also plenty of opportunities here to help remove plastic waste from our precious ecosystems and urban areas by joining or hosting a coastal cleanup!
Green Nudge, Ocean Purpose Project, The Litter Club, SG Beach Warriors, Waterways Watch Society, Little Green Men, Seven Clean Seas

all part of susGain's partner ecosystem, host regular public clean ups and also organize sessions for schools, universities, and organizations who want to do their part.

International Coastal Cleanup Singapore

(ICCS) – ICCS is the Singapore arm of the International Coastal Cleanup movement conducted across 70 countries on the third Saturday in September annually. Take part in this global movement by volunteering for a beach cleanup for ICCS, or recruiting their help to host one of your own!

Nature Society

 – A wildlife conservation organization, Nature Society conducts unique kayaking cum mangrove cleanups, in areas such as Pulau Ubin. Enjoy the serenity of nature while giving back to it!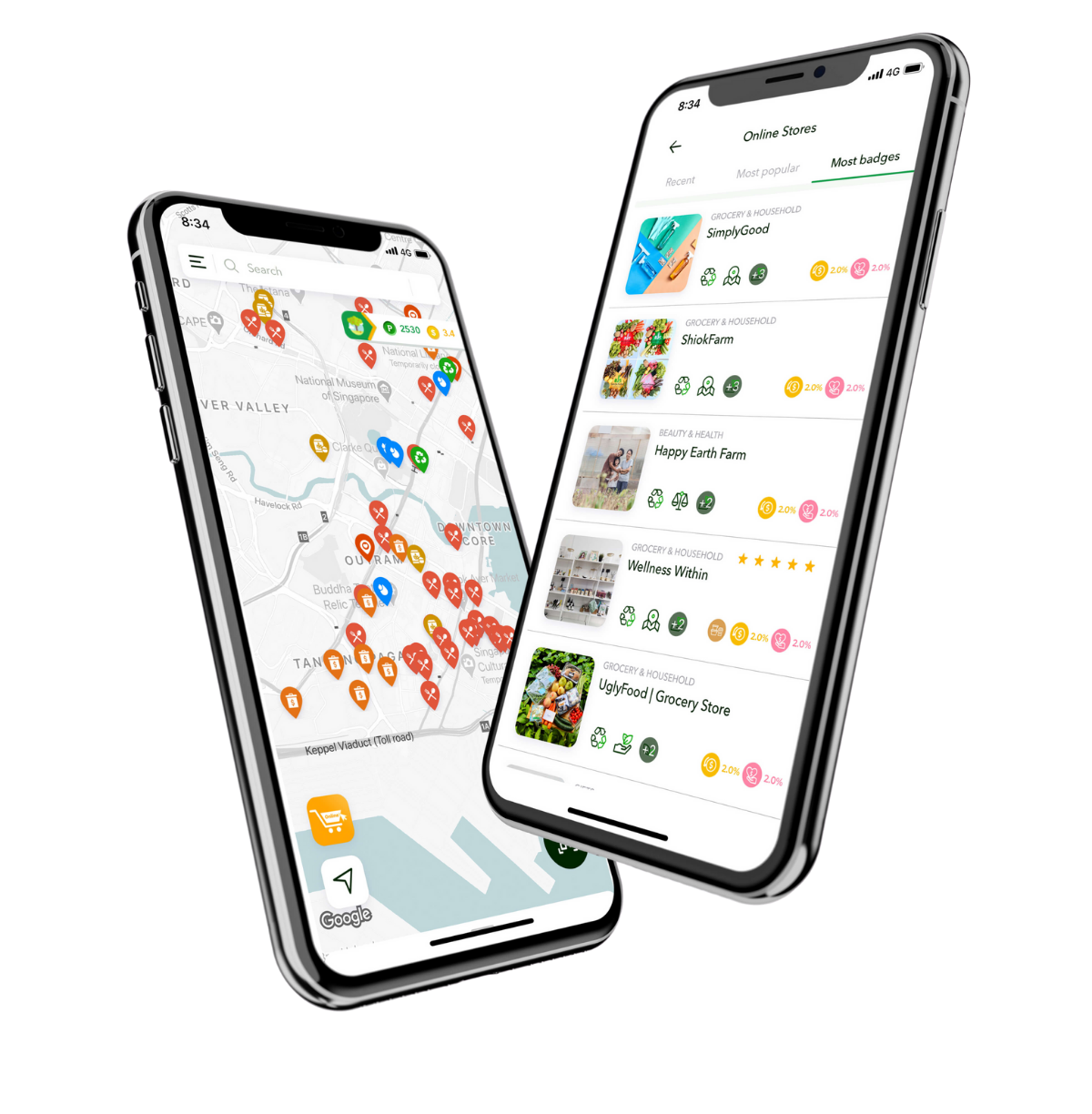 ---
With the susGain rewards app you can now turn your eco-friendly actions and purchases into points, cashback, donations and trees!
With 1000+ green data points, such as BYO locations, water refill stations and volunteering opportunities mapped across the island, as well as over 120+ eco- and socially- conscious stores, a more sustainable lifestyle awaits you at your fingertips! Get the FREE app here: