Have you noticed some haze in Singapore recently? It might be just a taste of what's to come, as the haze season is predicted to hit Southeast Asia earlier than usual this year, as dry weather due to climate change is making Indonesia's forest and peatlands that are cleared for palm oil and pulp more susceptible to fires. You might be wondering:
What's the issue with unsustainable palm oil and haze?
Did you know your soap, makeup, biscuits, and coffee creamer probably contain palm oil? Palm oil is present in around 50% of supermarket items – thanks to its versatile properties. In Singapore, households, hawkers, restaurants, and hotels use palm oil for cooking. In fact, 97% of eateries use palm oil, according to research by People's Movement to Stop Haze (PM Haze), a susGain charity partner.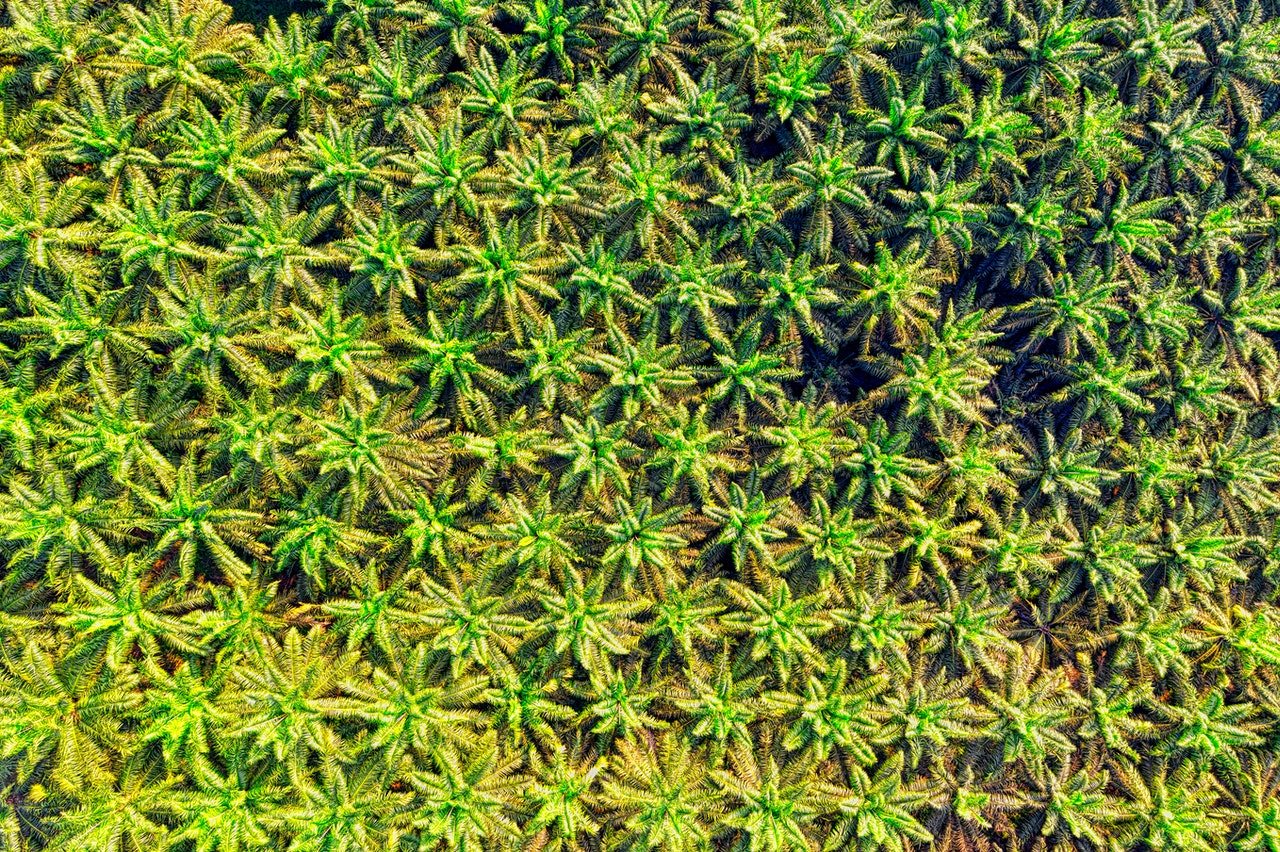 As a commodity in high demand, the industrial-scale production of palm oil is quite unsustainable. 50% of deforestation in some tropical areas such as Borneo is caused by palm oil production. This has significantly reduced populations of endangered species like the Orangutan and Sumatran Tiger.
Palm plantations that are not upheld to stringent environmental standards could be developed on carbon-rich peatland swamps. To clear land for plantations, peatlands are drained of their water content, leading to peatland degradation and higher fire risks. Fires that started in peatlands release larger amounts of greenhouse gases than those started in mineral soils. The unsustainable production of palm oil has also been linked to human rights violations, including the exploitation of labor and land grabbing from indigenous communities.
Transboundary haze pollution caused by forest fires has become an almost annual pollution event since the 1980s. In Singapore, haze episodes happen regularly, the last one occurring in 2019. It is a serious public health, environmental and economic crisis – disrupting daily activities and leading to respiratory illnesses amongst other issues.
Busting the myths about palm oil
Palm oil, for all the reasons above, has received a bad name, leading to a boycott movement. However, the palm is very land and resource-efficient crop. Palm produces 6-10 times more oil per hectare of land compared to other oilseed crops such as soybean and sunflower. It also requires significantly fewer chemical inputs.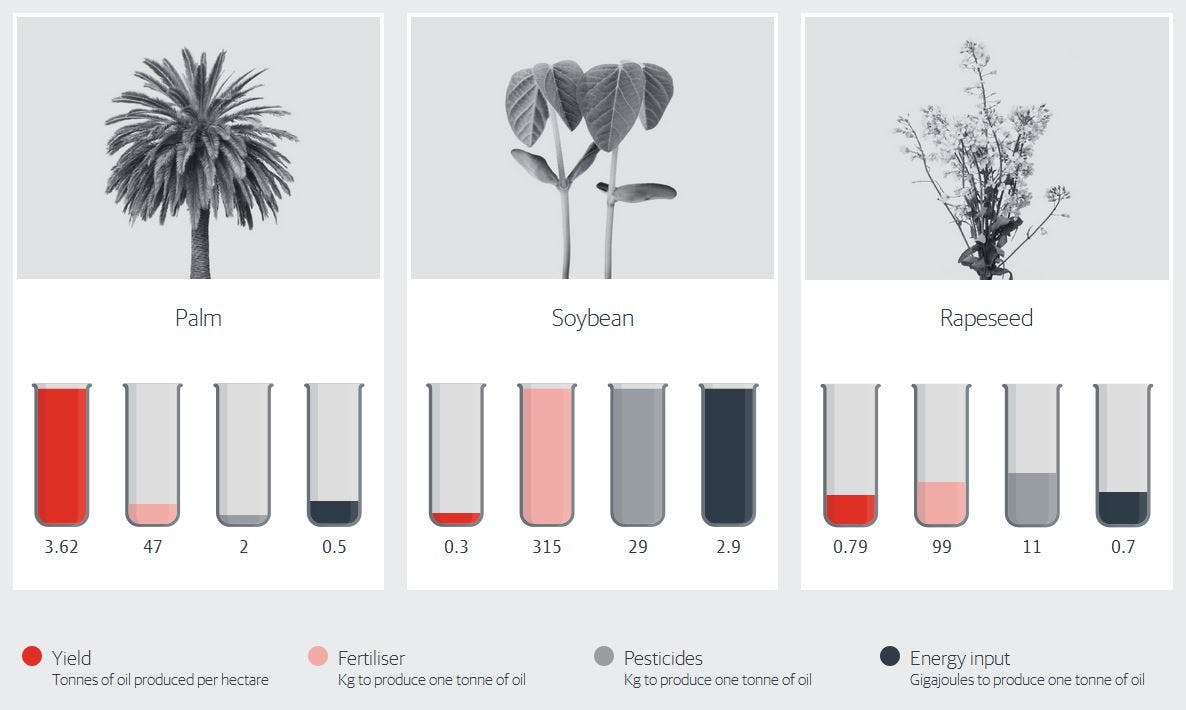 Banning palm oil might lead demand to turn to other alternative oil crops, which means more deforestation and greenhouse gas emissions. The palm oil industry also currently provides livelihoods to millions, especially in Indonesia and Malaysia where 85% of palm oil is produced. Many palm oil industry players and NGOs such as PM Haze have instead been advocating for a transformation of the industry to ensure its practices are more sustainable.
What is sustainable palm oil?
Sustainably certified palm oil ensures that a set of criteria are met by oil producers, depending on the certification body. The world's leading palm oil certification, RSPO (Roundtable on Sustainable Palm Oil), ensures sustainability for people, prosperity, and the planet in its NDPE (No Deforestation, No Peat, No Exploitation) policy.
What can I do?
Supporting sustainable palm oil is a powerful action we can take as individuals and a collective:
1. Choose sustainable palm oil
Look out for products that contain sustainable palm oil. Many products that contain sustainable palm oil do not explicitly state so. Check out PM Haze's handy supermarket guide for products that are RSPO-certified.
2. Support PM Haze's work!
PM Haze is a non-profit whose work focuses on outreach, advocacy, and research on transboundary haze. They work on steering consumption patterns towards sustainable palm oil and paper and assist Indonesian and Malaysian farmers to create a sustainable livelihood through programs such as community-based peatland restoration. Recently, PM Haze has launched a "Haze-Free Foodstand" campaign which encourages Singapore's eateries to switch to sustainable palm oil and promote its use. This is part of their aim to make Singapore the world's first sustainable palm oil country. You can also support a local initiative Hazy Waste, which aims to promote sustainable palm oil usage & oil tin recycling among hawkers in Singapore.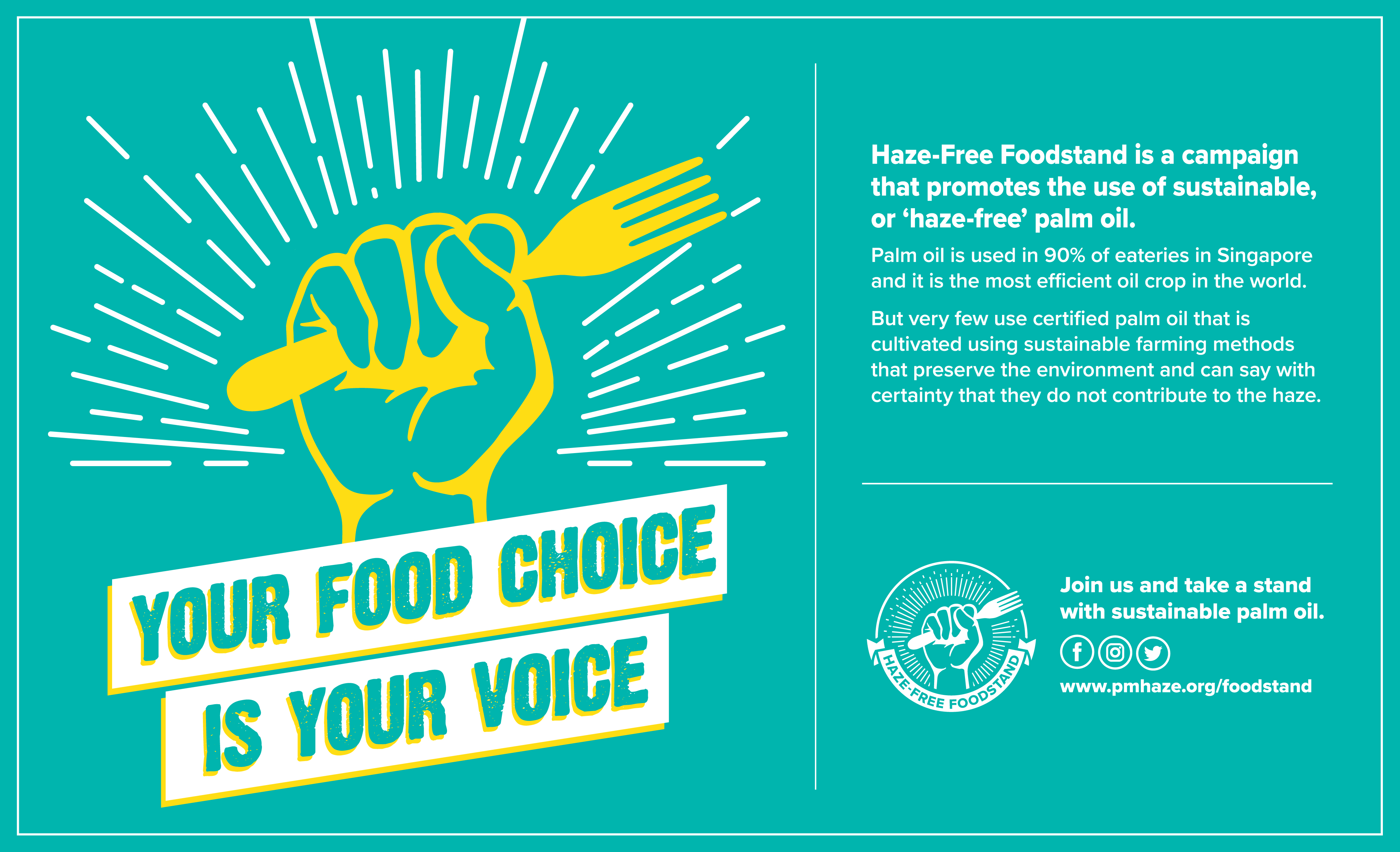 3. Consume less processed and fried foods
Unnecessary consumption of vegetable oils such as palm oil in general increases pressures to clear forests for palm production. Buy only the products you need, such as ordering the right quantity of food when eating out. Try eating less processed food (such as biscuits, chips, instant noodles) that contains palm oil!
4. Advocate for sustainable palm oil
Talk to your friends, family, and even your neighborhood hawker about the haze, and encourage them to use sustainable palm oil! You could even reach out to companies or eateries whose products/dishes contain palm oil to request them to use sustainable palm oil and join PM Haze's campaign. Our partner NUS SAVE has compiled an email/social media template you can use.
5. Another way you can support PM Haze's work is to use susGain!
Check out our sustainable lifestyle app to see how you can turn your green actions into cashback and points as well as automatically support a charity close to your heart – one of which is PM Haze!