Do you love giving gifts? We do, too! It means sending love, appreciation and support to someone close to us. This is also the season to give back, to the community and the planet! Unfortunately, this time of the year is also known for overconsumption and producing lots of waste from wrapping materials to unwanted gifts that after a while will end up in the landfill. But who says we can't change this? We can with these sustainable gift ideas ranging from experiences, to second-hand items and purchases from verified sustainable stores with susGain – the only rewards app that benefits you, the planet and a local charity of choice! Win-win for all, y'all!
What is a Sustainable Gift?
1. Thrift for new items. You can find in Facebook Groups or on Carousel those  "unwanted gifts" that might be exactly what you are looking for!
2. Choose second-hand items in great condition.  Especially, children's toys or books are outgrown so fast and still in pristine condition. I love shopping secondhand for my son and helping him to sell and donate outgrown items.
3. Gift experiences. Those gifts last much longer with only lovely memories to keep.
4. Make it yourself. Nothing says love more than spending your time creating something for a loved one.
5. Locally made. Reduce your carbon footprint by choosing gifts made here in Singapore and support local businesses.
6. Sustainable materials. Chose gifts from verified sustainable businesses using sustainable materials and business processes.
7. Gift cards. Not sure what to get? Best to opt for a gift card to have the receiver pick the gift of choice. Even better if it is from a sustainable brand! Find them on the susGain app. 
8. Giving back. Donate to a charity or cause you know the giftee is passionate about! susGain beneficiary Mercy Relief gives you the chance to give the Gift of Giving. Share the love back with those who need it the most. 
9. Wrap it in reused materials. We love reusing a large colourful calendar to wrap gifts or make our own from packaging which we up-cycle with lots of water colours. I also saw online a great idea to reuse the outer paper wrapping some hardcover books come with. I had to google the actual name. Did you know that they are called dust jackets? How cute.

Sustainable Gift Ideas
To be honest, the last thing anyone needs around Christmas or any other festive occasion, is another time-consuming task such as researching which brands are eco-friendly and locally available. We are happy to do the work for you! Here is our handpicked selection of sustainable gifts from our awesome susGain partner businesses for your friends, family and colleagues. And they don't cost the earth, promise!
Book lovers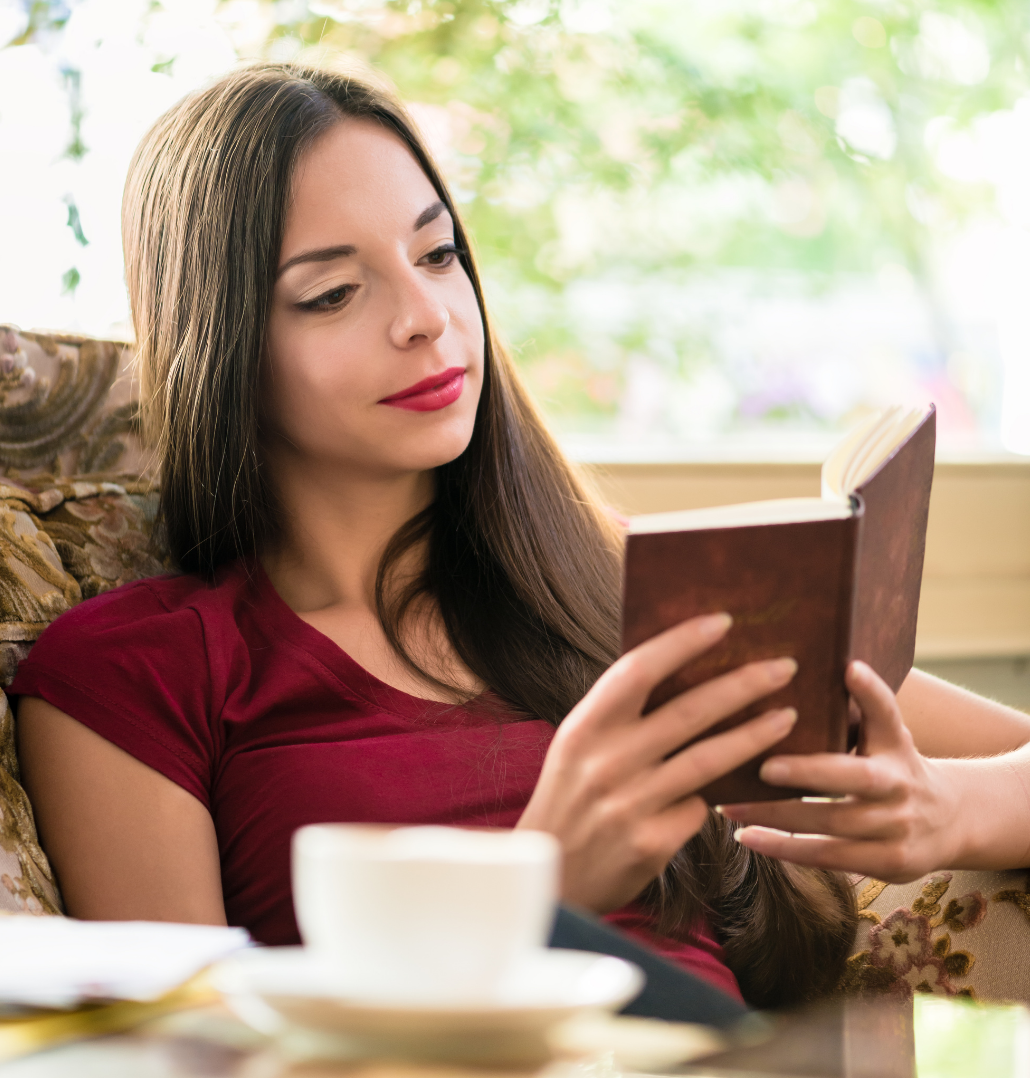 Not a fan of meetup hassles to pickup preloved items? Browse in peace and from the comfort of your home in Singapore's first sustainable online bookstore Thryft.  Get second-hand books delivered in plastic-free packaging with each book wrapped in repurposed paper! 50% of profits from the sales of their "Books for Charity" collection goes toward a social organisation. Free delivery island-wide for orders above SG$15.
Fashionista
Like-new Fashion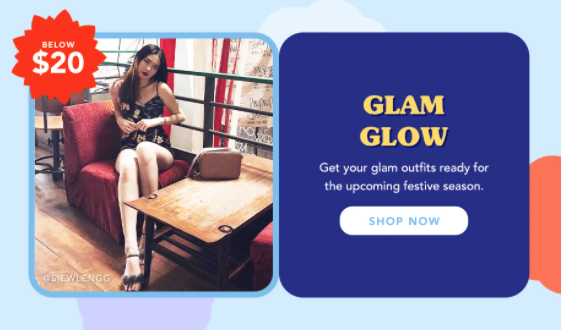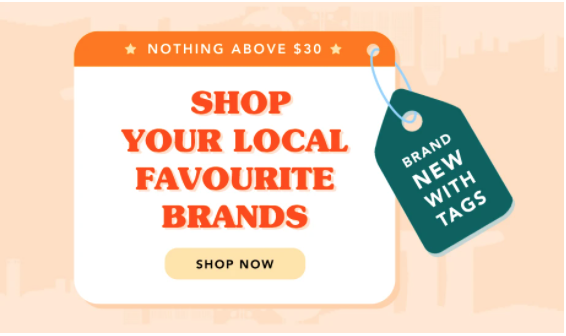 Did you know that you can also buy brand new clothes at Refash? Simply search for "new with tag". Or head to one of their nine locations. With susGain you can shop online and in-store to earn cashback for you and your charity of choice. Also check out their section "Glam Glow" and get your glam outfits ready for the upcoming festive season as a gift to yourself. You know you deserve it. Another option is to upgrade your wardrobe by swapping at Swapaholic or The Fashion Pulpit! Find more info on sustainable fashion in our blog articles Your Guide to Sustainable Fashion in Singapore and Sustainable Fashion – Post Circuit Edition.
New Fashion & Accessories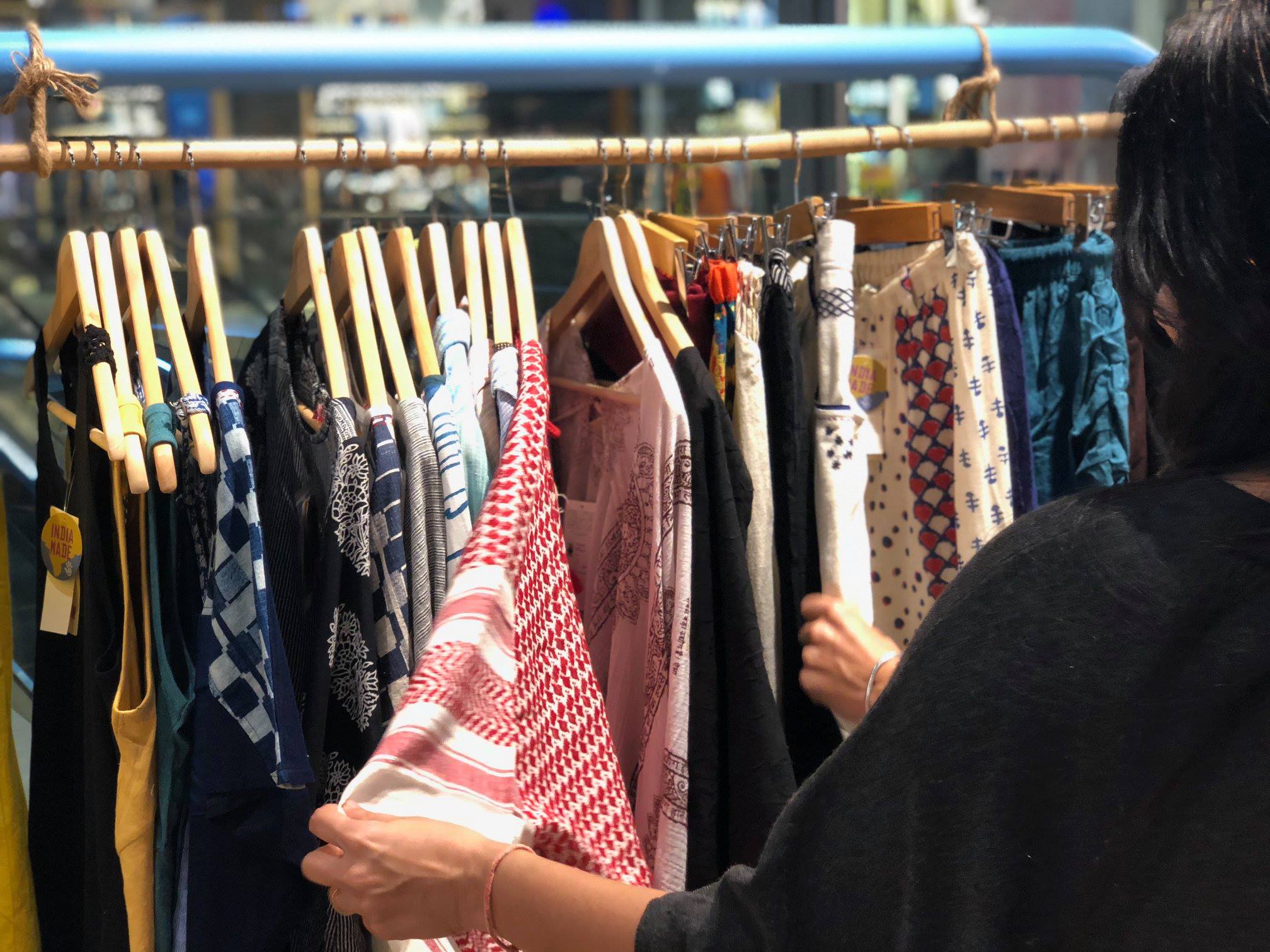 For new fashion items and accessories head over the following sustainable local brands offering beautiful and sustainable garments and accessories. Purchase online or in-store, earn susGain cashback and support a charity of your choice.
For example, find the following eco-conscious stores on the app:
The Green Collective, Sceona, The Eco Gem, Zhai Eco Collection (jewellery and accessories), GratitudeCollectionZ, Uaona, Peco Bag, Minimize (handbags), Woodium and Truth & All (sunglasses), Hide The Label, Stain, You Living, Lacess, Outfyt, Liberty Society (fashion)

Workshops 
Give the gift of experiencing something new!
Clean Beauty Workshop with Fawn Labs and Frankskincare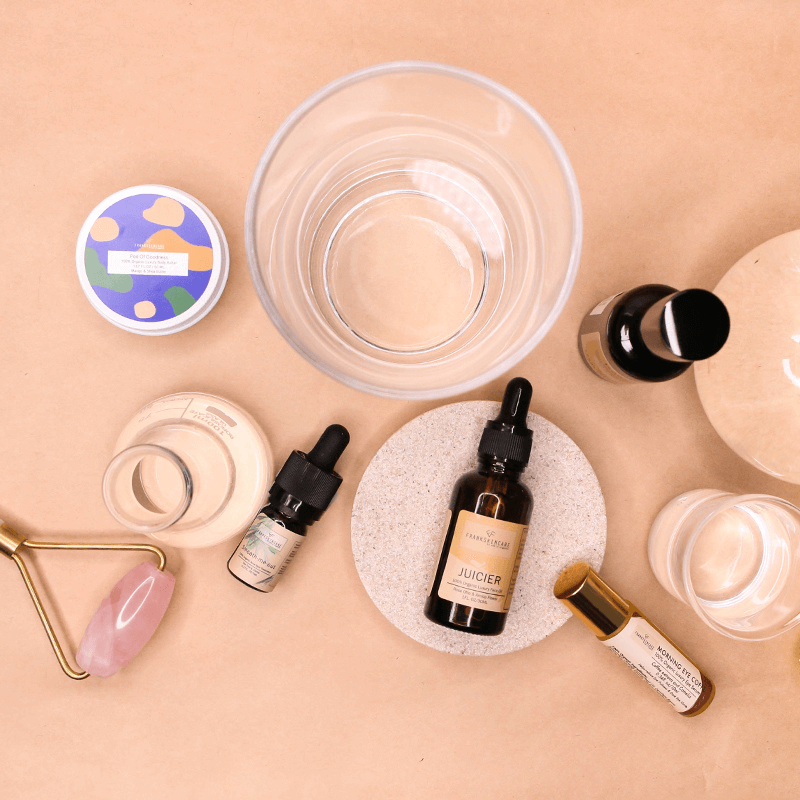 Fawn Labs conducts workshops to formulate bespoke organic skincare products with a strong focus on sustainability. In the workshops participants learn about Clean Beauty and how to make toxin free Clean Beauty products, a dual purpose Gel Mask / Face Wash and a bespoke for your skin dual purpose Light Moisturiser (Day) / Serum (SG$200). Fawn Labs on susGain
In Frankskincare's workshop you will blend your own clay mask with a range of botanical and clay ingredients. Furthermore you will learn about the benefits and science behind each of these ingredients and how it can benefit your unique skin type (SG$156). Frankskincare on susGain
Jesmonite DIY Workshop with Chokmah

Participants will learn about the amazing properties of Jesmonite followed by the various techniques in making your very own handcrafted trays or coasters which includes – colour mixing, casting techniques as well as sanding! (SG$98-120)
Chokmah on susGain
Workshops with Soaprise
Soparise offers a wide range of workshops! Learn how to make your own masks & body scrubs, candles, jewelry and even your own face masks! Or chose to learn floral henna and how to blend essential oils. (SG$75-120)
Soaprise on susGain
Beauty Gifts  
Browse for beauty gifts that are good for you and the planet susGain: Iryasa, Sol Plus, Wellness Within, Happy Earth Farm, Micora, Searth Beauty, Reflexx.Me, Fawn Labs, Frankskincare 
Plantable gifts
How fun is this! When the item is used or doesn't spark any joy anymore, just plant it and transform it into something new.
Candles from Pass it on
These plantable candles pay tribute to iconic destinations that are endangered due to climate change (SG$32).
Stationary from Left-handesign 
Their beautiful pencils, pens, notebooks and even gift tags can be planted after use. Chose from Chili, Tuli, Tomato or Morning Glory! (SG$4-8)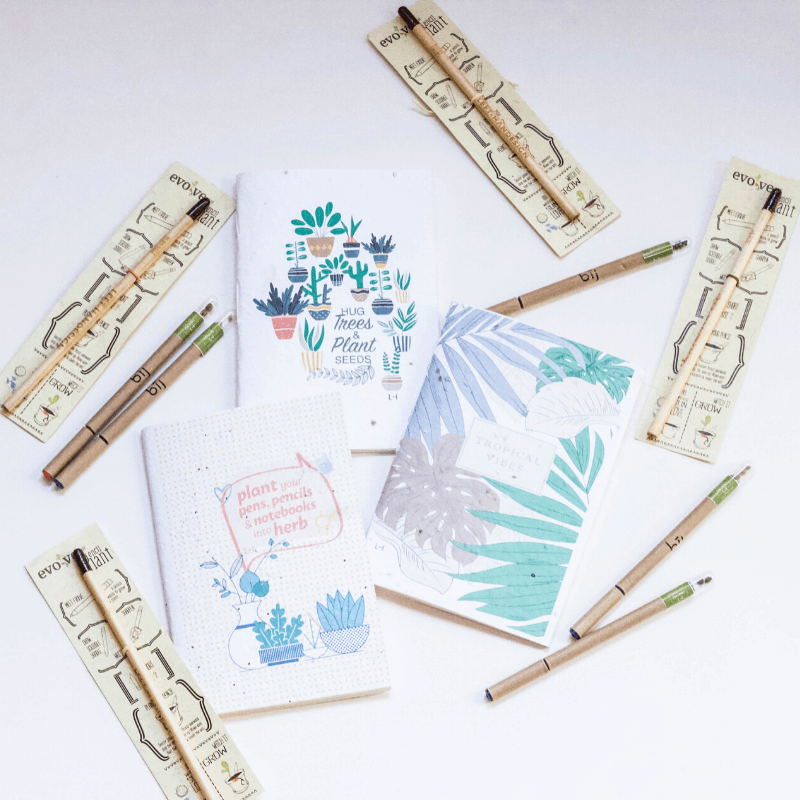 Zero Waste Lifestyle
Get stylish bring your own reusables for food & beverages, reduce waste with accessories for your beauty and sustainable solutions for the kitchen! These brands have you covered.
The Sustainability Project has awesome Christmas bundle sets ranging from tumblers (SG$55 for 2), to stasher sets (SG$60) for the kitchen (SG$40) or starter kit for the bathroom (SG$65) to beauty (SG$60). The Sustainability Project on susGain
If you want to give totally 'zero', why not gifting an annual subscription for unlimited reuse for takeaway and food deliveries offered by Muuse or barePack? Muuse offers a gift card with annual subscription (discounted at SG$25). For every card sold, they pledge to remove 1Kg of ocean plastic waste by Seven Clean Seas. barePack offers a 1-year membership Gift Card until Dec 31st at SG$8.99.
Find all brands here.
Also find on susGain: Bamboo Straw Girl, A Real Leaf, Zero Yero, Neis Haus, Minimize, Your Sustainable Store, Zhai Eco Co, The Eco-Statement, Trove of Gaia
For Beer Lovers

Support CRUST to save bread and produce beer! Surplus ingredients like bread and fruit peels are reincarnated into unique products like CRUST beers and CROP fruit sparkling waters. I know you know someone who would like to try the Kaya Toast Stout made in collaboration with 1925 Brewing Co! You can also opt for a KAYA TOAST STOUT MIX PACK (12 PACK) with 3 of each beer: Breaking Bread Ale, I Knead an Easy IPA, Kaya Toast Stout, and Beerguette (SG$88)
CRUST on susGain
For Wine Lovers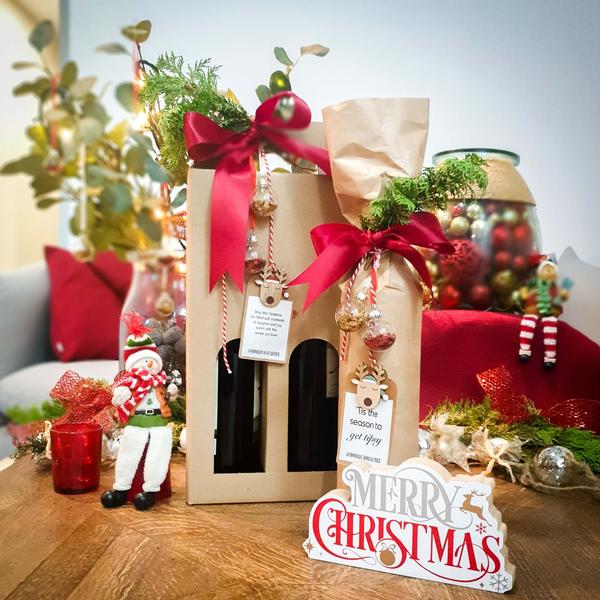 Here comes a great gift for wine lovers! Brown Bag Wines offers a selection of exclusive organic wines from producers who value sustainable farming.  And what's more, Brown Bag Wines is part of the Zero Waste Packaging Initiative which is a ground-up movement started to encourage businesses to adopt a circular packaging system. We love that Brown Bag Wines collects empty bottles from their Organic Wine Club members and repurpose the glass in partnership with Refind.
You can give the gift of a wine club membership or spread the festive joy this season with the Brown Bag Wines Christmas gifts. Brown Bag Wines will be on the susGain app shortly.
These would go well with some veggie chips from Confetti Snacks, which are made with "ugly" produce.
Foodies



Are you looking for delicious gift boxes with some special treats and food to share with your loved ones during the festivities? Or would a subscription to a Veggie Box or Kombucha from Shiokfarm, Goodness Graciously or Kombynation be the perfect gift? We have you covered! 
Vegan Gift Boxes 
While all chocolate fans will love Róa's delicious Christmas cupcakes and cakes, you can rest assured that all are vegan and gluten-free, dairy-free! You can chose the Christmas Single (SG$6), Grande (SG$68.80) to a Christmas Indulgence Gift Box (SG$98). Roa Cakes on susGain
Vegan Wellness Box by OsomeFood
OsomeFood offers a vegan wellness box with gifts of wellness and immunity for people you care about. (SG$59.50) OsomeFood on susGain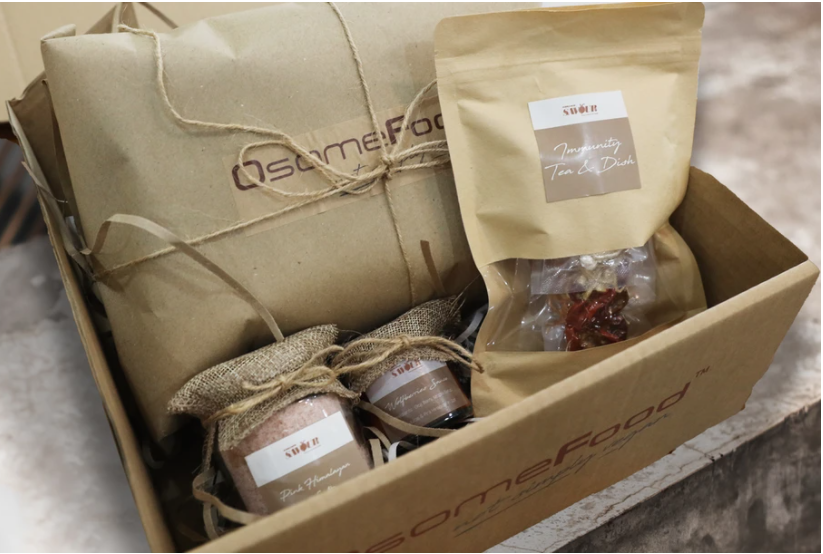 Vegan Festive Delights
The Whole Kitchen Singapore has a whole range of Christmas Specials with all items gluten free, all natural, low in natural sugars and made in Singapore! From gluten-free gingerbread cookies (SG$9.95) to "Gift of Goodness Hamper" (SG$199). The Whole Kitchen on susGain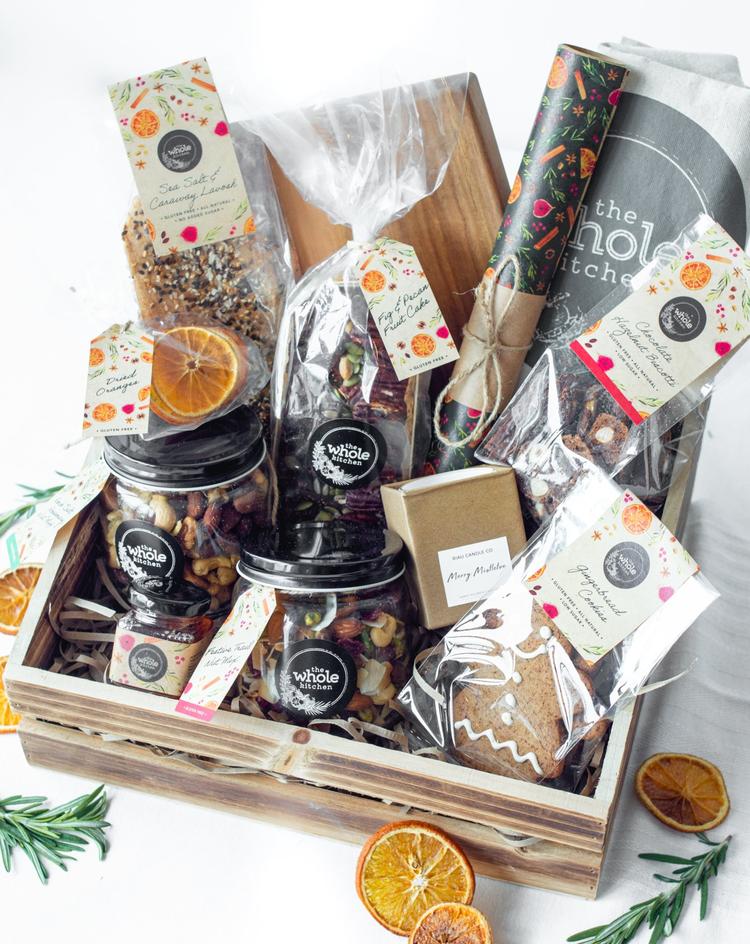 Pantry Gift Set : Vegan Pesto And Macadamia "Goats Cheese" With Flaxseed Crackers
Nourish SG has a dedicated section with Christmas Specials. This Pantry Gift Set (SG$29.90) would go well with a nice red wine! Nourish SG on susGain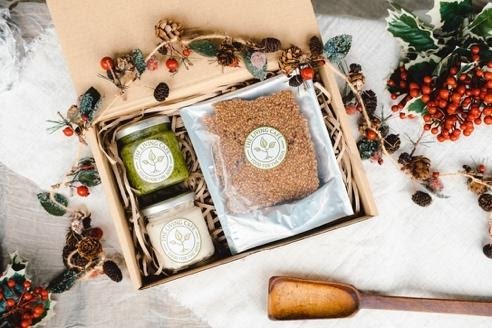 I hope you found some gift ideas! Check out our article about Sustainable Gift Giving – Kids Edition as well.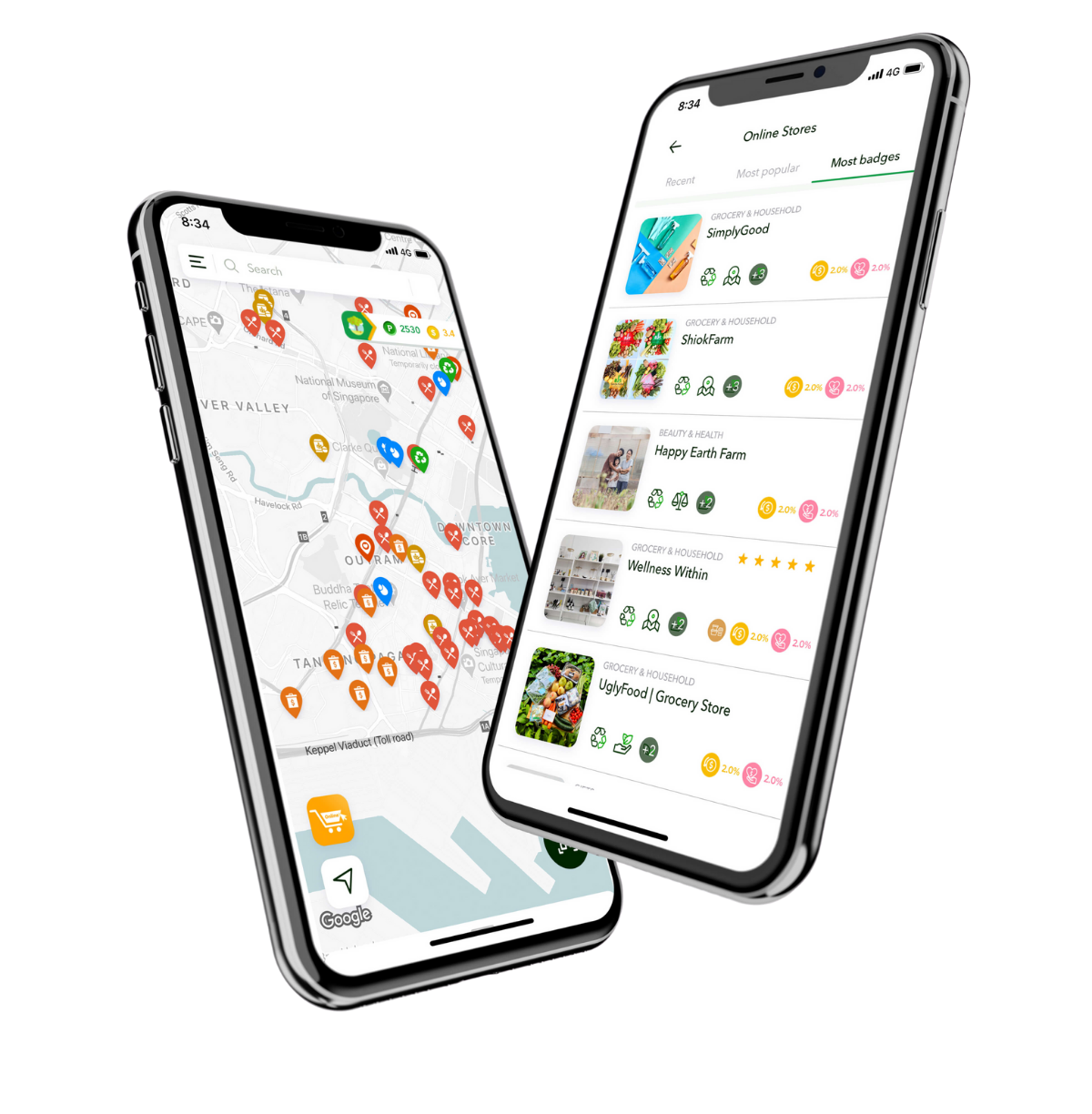 ---
Get your rewards app for you, the planet and the community! Earn rewards for your green lifestyle choices and make a difference today