Starting the new year on a positive note is something all of us look forward to. And what better way than to get your home organised once and for all by decluttering? A tidy home doesn't just make everything look nice, but it also reduces stress, enabling you to only be surrounded by things you absolutely love using. When there's a place for everything and everything is in its place, clutter never rebounds! You also become more intentional while deciding confidently what to bring into your life during future purchases.
I hope the following tips will help you getting started! For extra motivation, January is the 'Month of Decluttering' at susGain with the chance to win awesome prizes from susGain's F&B partners!
Guilt-Free Decluttering 
When we declutter our homes, we often feel guilty of discarding items we no longer use. We fear what will happen if we may one day be in need of that item. The KonMari® Method teaches us to let go of the past and not worry about what the future holds. Instead, start focusing on being mindful. This helps in motivating us to enjoy living in the present, be content and grateful. If we do decide to keep such an item, for instance a pair of jeans that doesn't fit at the moment, it would be good to ask ourselves: "Am I doing an activity that makes me happy to be able to fit into this soon or do I feel frustrated putting in the effort?" If it's the latter, it's time to let that item go with grace and thank it for serving you well when it did.
Understanding Your Vision for Your Home
Unlike what most conventional professional organisers tell you to do, decluttering should first start with committing to the method. You must first understand what your vision for your home is, ideal lifestyle and values. Once you have clarity in this first important step, only then can you use this awareness to guide you in your tidying efforts. Don't be in a rush to buy fancy organisers, you'll have more than enough in your home when you complete your tidying!
How to Declutter by Category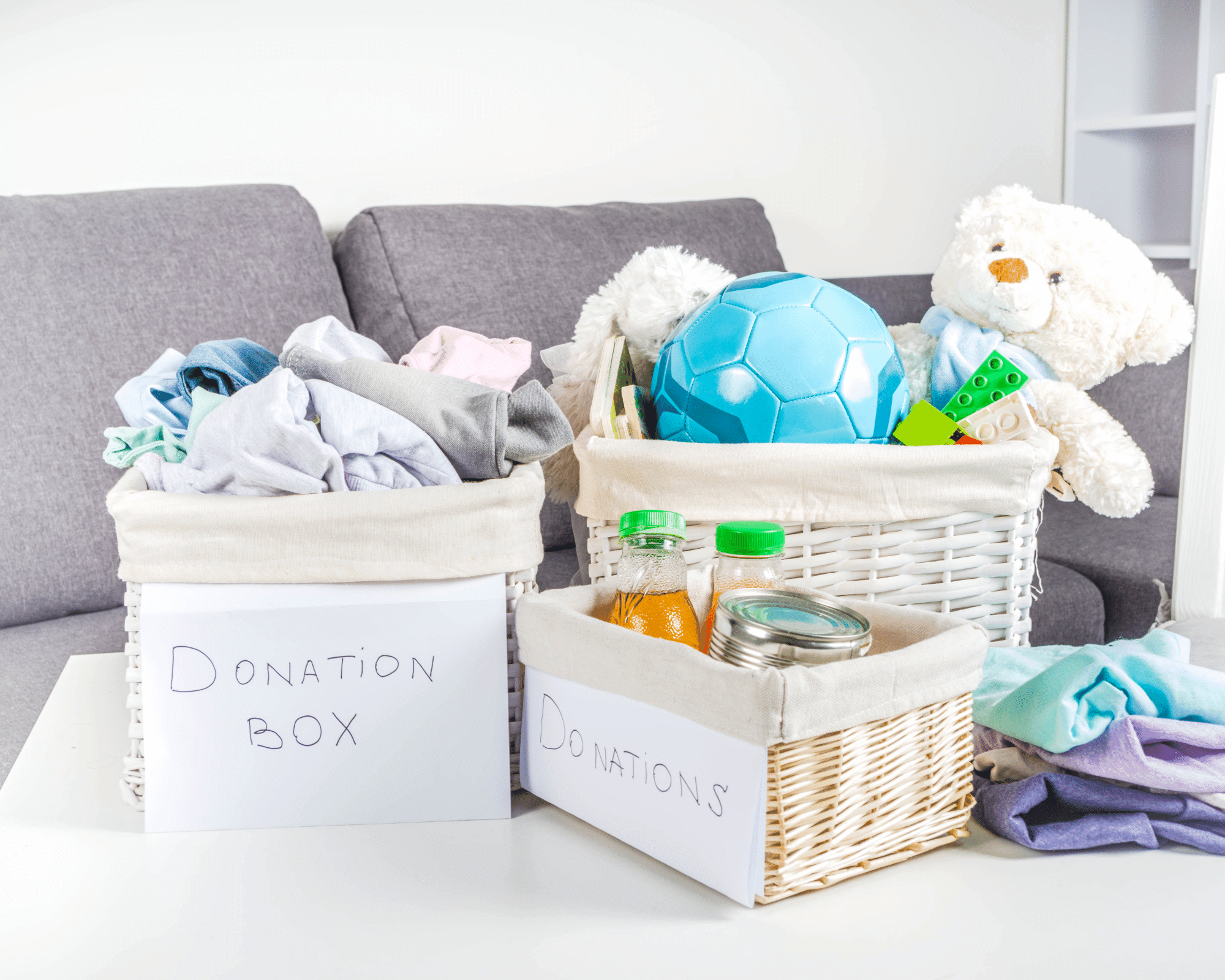 Start tidying according to category and not location of your home. This helps to ascertain how much you own and reevaluate your purchasing and storage habits. The KonMari® tidying method sets you up for success in your tidying journey and hones your decision-making skills on what to keep based on your special 'joy-meter'. It starts with easier categories like clothing before moving on to books, papers, miscellaneous items and finally the sentimental category (something like running a marathon unlike a sprint!). It teaches you what to keep based on what gives you happiness rather than what to discard. This helps to tidy with a positive mindset which trains your mind to look at other areas of your life as well in the same way. Only once this is complete can you think of discarding your items with gratitude (thus reframing the mindset around guilt). Then think of where and how to store them using what you have.
Before you declutter, think of which area in your home will be your temporary "holding corner" for discarded items. Have a game plan of how you will sell, recycle or donate these items. This will prevent the overwhelm after you complete tidying a particular category.
How to Dispose of Unwanted Items
Let susGain help you to give your unwanted items a second life! On the susGain app you can easily find places to sell, donate or recycle items for different categories. Browse the following categories on the app and earn rewards for your green actions! Find out how it works here.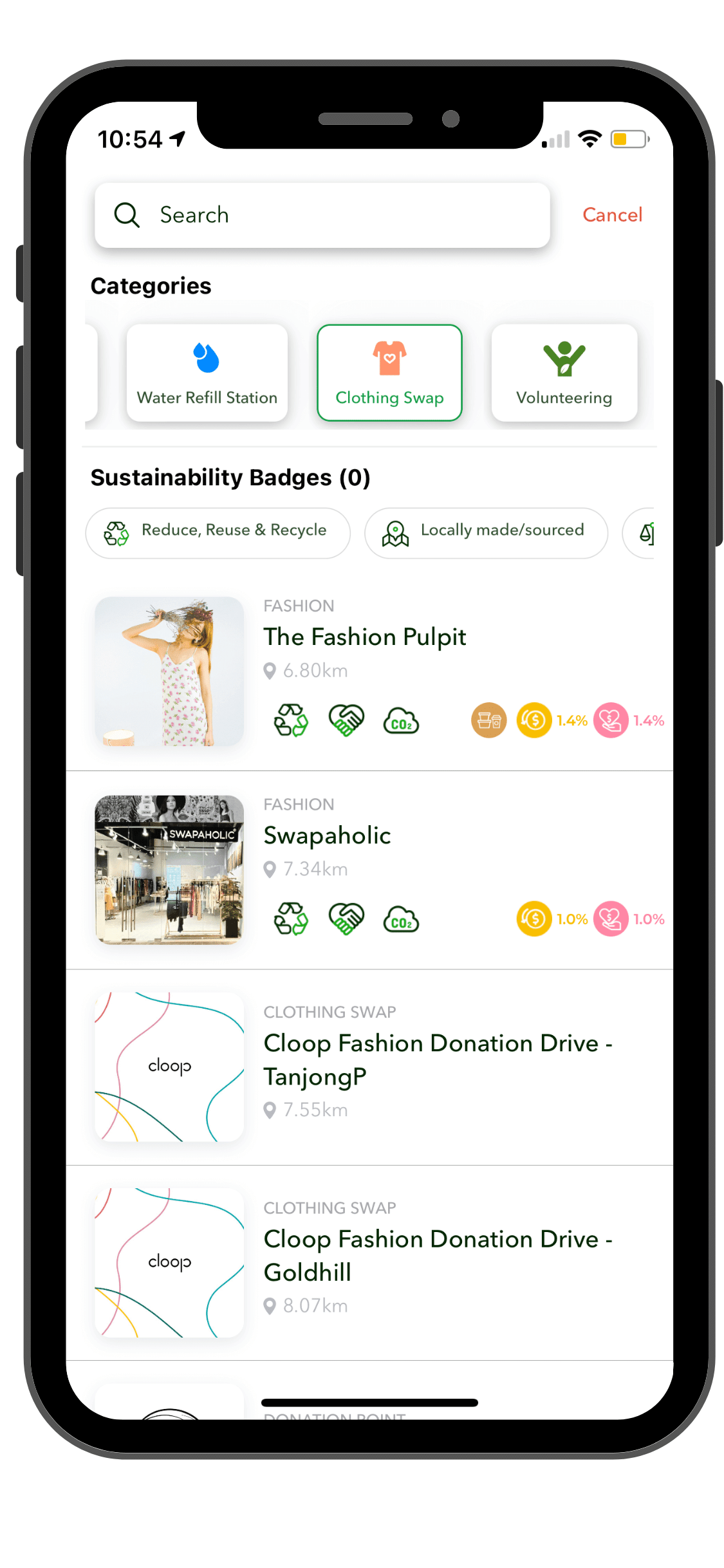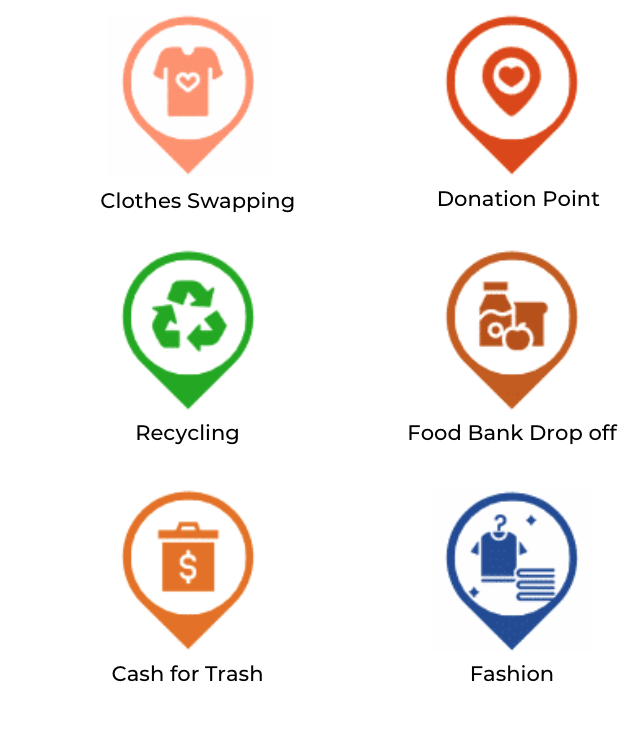 Pre-loved Fashion & Accessories in great condition

To Swap 

To Sell 

To Donate 
Books

To Trade in Your Books
PCs, Laptops, Mobile Phones, Tablets


To donate and recycle
Other pre-loved items
Non-expired Canned Foods

Donate it at Food Bank Drop Offs (37 locations)
Holding on to your recyclables to avoid a possible contamination in the blue bin? Head here and earn rewards!

Packaging materials
Paper, Magazines, Cardboard
TP & Bread and Butter Recycling
Drink containers
Reverse vending machines (46 locations)
Other recyclables
Cash For Trash points (105 locations)
Ink & Toner Cartridges: Project Homecoming (21 locations)
Light Bulb, Florescent tubes, rechargeable batteries, power banks (IKEA Alexandra, IKEA Tampines)
How to win – Month of Decluttering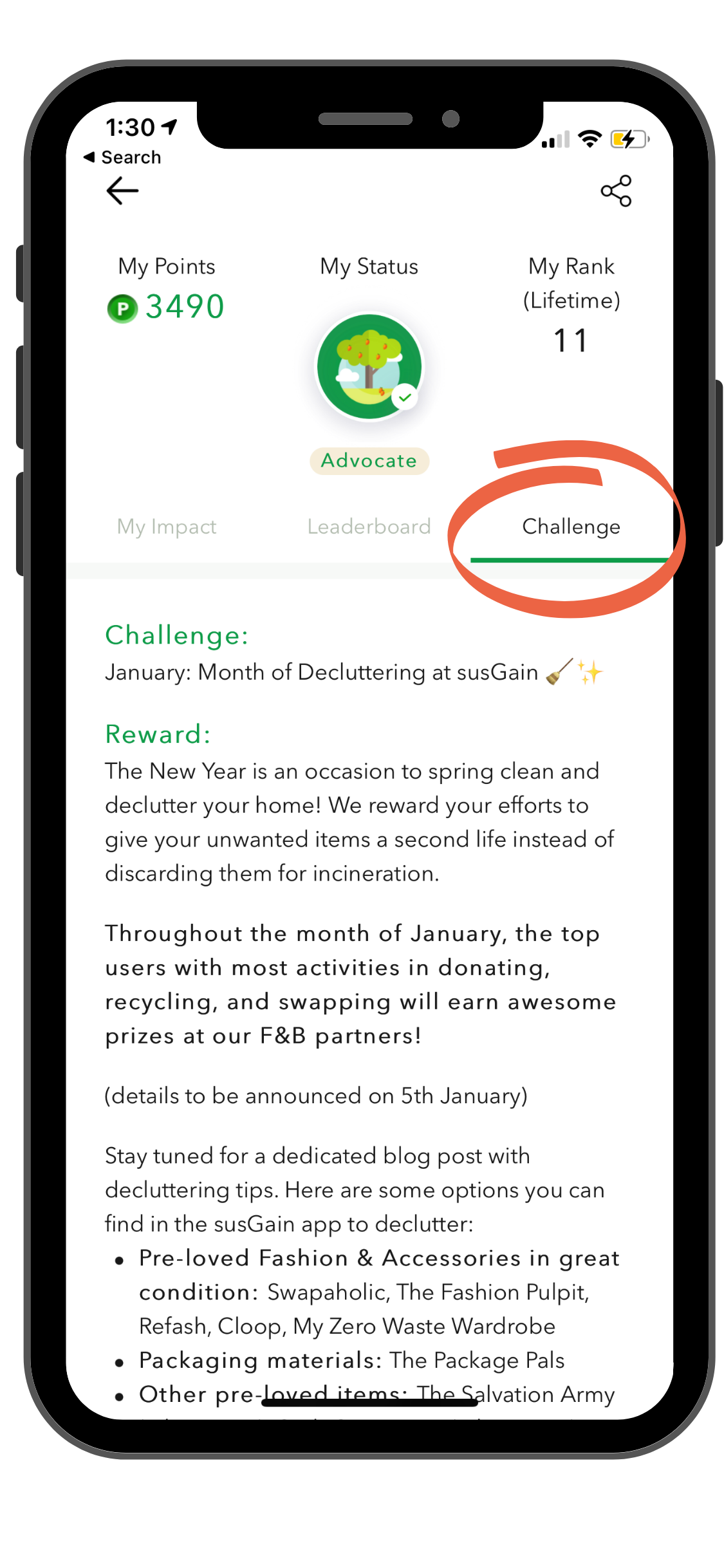 With the susGain app you have another motivation to declutter our home. The app helps you to give your unwanted items a second life! What's more – earn rewards for you, the planet and the community!
In January you can even win! Throughout the month of January, the top users with most activities in donating, recycling, and swapping will earn awesome prizes from our F&B partners! Find more information on instagram @susgain_singapore or in the Challenge tab on your susGain app! Winners will be announced on the app on 6th February 2021.
Article written by susGain partner Aparna Sundar | KonMari® Consultant at Global Mindful Journey
Contact Aparna at: aparna@globalmindfuljourney.com
Instagram: @globalmindfuljourney
Book your FREE 30-minute Discovery Call with her via the susGain app here. Use promo code SUSGAIN upon checkout!