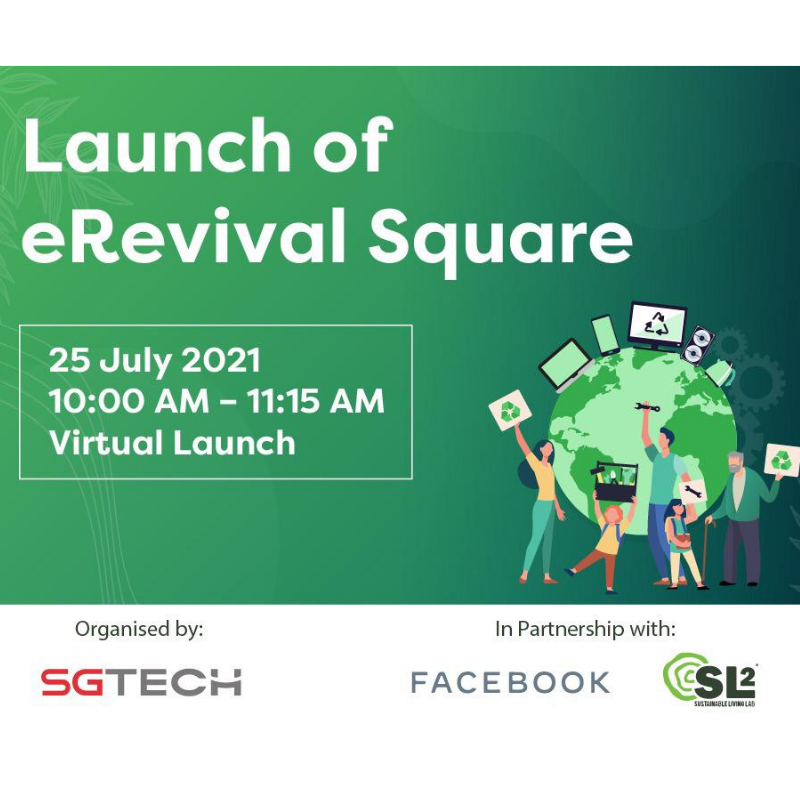 Launch of eRevival Square
SGTech's Sustainability Committee aims to rally the community and enable companies to collaborate to achieve success in our collective sustainability journey.
You are invited to the virtual launch of our new E-waste initiative — eRevival Square! The pilot run of this programme will run for six months from Q3 2021 and builds on the success and reach of "Repair Kopitiam" (a community initiative of Sustainable Living Lab) to drive public awareness and consumer education on e-waste and cultivate a habit of consciousness towards the use of electronics.
𝗣𝗿𝗼𝗴𝗿𝗮𝗺𝗺𝗲 𝗛𝗶𝗴𝗵𝗹𝗶𝗴𝗵𝘁𝘀
Introduction to new e-waste pilot programme by SGTech and Sustainability Living Lab – eRevival Square
NEA's new e-waste management initiatives: Extended Producer Responsibility (EPR) programme and Producer Responsibility Scheme (PRS)
Educational spaces for e-waste management by ALBA, Sustainable Living Lab and the producer partners
Insights on how your company can contribute to greater sustainability
Corporate and Community pledge to reduce e-waste
Click here to join event.